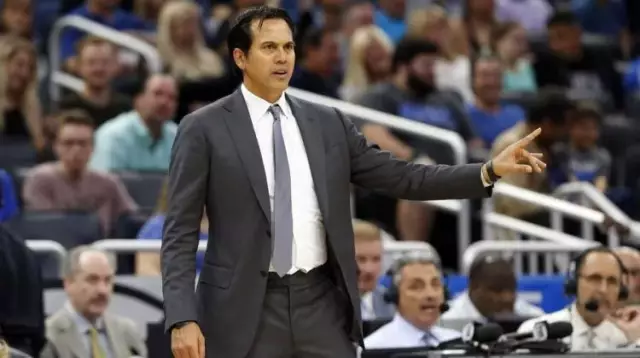 NBA是球員的聯盟,天賦是持續成功的前提基礎。如果A隊的球員優於B隊球員,則大多數情況下,A隊更強,這麼說既不複雜,也不會令人吃驚。
The NBA is a players' league. The baseline necessity for sustained success is talent. This isn't complicated, nor is it breaking news: If Team A's players are better than Team B's players, then more often than not, Team A will be fine.
所以當一支有天賦明顯欠缺的NBA球隊一次次擊敗對手時,那麼我們(不只是球迷和記者們)很自然地就會把目光投向場外去尋找答案。這就引出了本篇的主角——邁阿密熱火和他們的主教練,Erik Spoelstra。
So when an NBA team starts routinely beating its opponents despite an obvious talent disadvantage, it's only natural that we—and I don't just mean fans and writers—look beyond the guys on court for answers. Which brings us to the Miami Heat, and their head coach, Erik Spoelstra.
聯盟裡的一眾教練,比如Mike D'Antoni,Scott Brooks,Gregg Popovich,Brad Stevens,Steve Kerr,Quin Snyder,都曾在開賽後以這樣或那樣的形式經受過與籃球有關的挫折。他們也都堅守著各自的一套籃球哲學或原則,從而度過難關。重要的是,他們各自的球員名單上也都至少躺著一位全明星球員,那座能在黑暗中照亮前行道路的燈塔。
Coaches such as Mike D'Antoni, Scott Brooks, Gregg Popovich, Brad Stevens, Steve Kerr, and Quin Snyder have all dealt with basketball-related trauma in some form or another since opening night. All have risen above it by sticking to their respective philosophies and principles. Just as important, all have at least one All-Star on their roster, a lighthouse to guide them through their darkest hour.
Spoelstra卻沒這種奢侈品,而且相比上述那些教練,他的輪換名單幾乎是最拿不出手的。即便如此,最近幾個月的熱火戰績與其他球隊相比毫不遜色—-這其中很大一部分要歸功於他們的教練。
Spoelstra has no such luxury, and he arguably has endured worse roster luck than any of those other coaches. Still, the Heat have played as well as anyone for the past few months—and much of the credit goes to their coach.
Goran Dragic和Hassan Whiteside是兩位頗有天賦的球員。除此之外如果你迅速掃一眼邁阿密的輪換名單就會發現,靠之前的表現和那群名不見經傳的球員,這支隊伍可幾乎跟布魯克林籃網一起競爭最差球隊,這還不包括之前提到的霉運。
Goran Dragic and Hassan Whiteside are gifted players, but a quick glance at the rest of Miami's roster would lead you to assume, based on past performance and a lack of recognizable names, that this team is Brooklyn Nets-level bad. And that's without mentioning any of the aforementioned misfortune.
Jeff Stotts是一名註冊運動員訓練師,他在網站InStreetClothes.com上運營著一個與健康相關的數據庫。根據他的VICE Sports所提供的數據,邁阿密本賽季已經由於傷病而失去了264個上場人次,比NBA所有其他球隊都要多,並且比第二名費城76人足足多出了49個人次。
According to information provided to VICE Sports by Jeff Stotts, a certified athletic trainer who operates a health-related database at InStreetClothes.com, Miami has lost a whopping 264 man-games due to injury or illness this season—more than any other team in the NBA, and 49 games ahead of the second-place Philadelphia 76ers.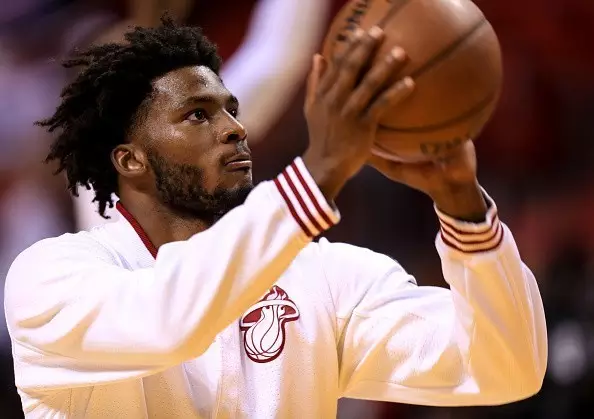 於是熱火本賽季開始的低迷也就並不令人吃驚了,他們在前41場比賽中輸掉了30場,每100次進攻被對手淨勝4.4分,防守排聯盟倒數第二。邁阿密連續五年打入季後賽,四進總決賽兩次奪冠,這之後的熱火似乎大搖大擺地走上了必要的擺爛之路。在球隊股肱Justise Winslow和Josh McRoberts持續傷病的困擾下,總經理Pat Riley公開表達了球隊12月的艱難處境。
Unsurprisingly, the Heat started the season terribly, losing 11 of their first 41 games while being outscored by 4.4 points per 100 possessions and boasting the league's second-worst offense. After five straight trips to the playoffs, including four Finals appearances and two championships, Miami seemed headed toward a blatant and necessary tank job. President Pat Riley publicly acknowledged the franchise's dire situation in December, as helpful bodies such as Justise Winslow and Josh McRoberts kept crumbling around him.
熱火隊的狀態在1月13日到達了低谷,他們以8分之差負於密爾沃基公鹿。然而自此之後他們竟然蒸蒸日上(咳咳),在接下去的24場比賽中贏了20場。他們兩次擊敗了克利夫蘭騎士—-其中一次LeBron James也在場,擊敗了金州勇士一次,擊敗休士頓火箭兩次。自1月17日之後,再沒有其他球隊能比熱火贏得更多,輸的更少,三分球投的更準;只有聖安東尼奧馬刺和金州勇士在防守上比他們做得更好。
The Heat reached their nadir on January 13, when the Milwaukee Bucks beat them by eight points. Since then, however, they've been (ahem) red-hot, winning 20 of their next 24 games. They've defeated the Cleveland Cavaliers twice—once with LeBron James—the Golden State Warriors, and the Houston Rockets twice. No team has more wins, fewer losses, or a higher three-point percentage since January 17th; only the San Antonio Spurs and Warriors have a superior defense.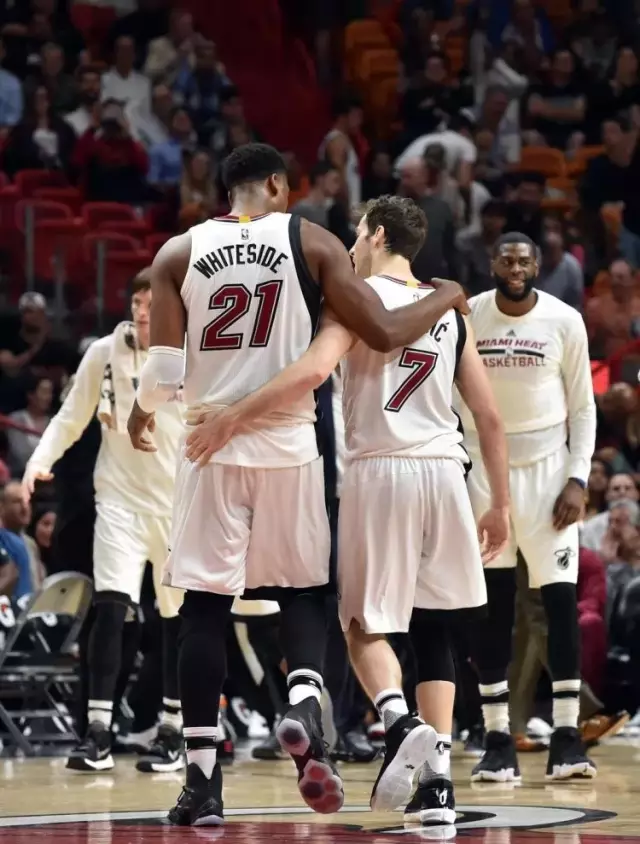 Dragic和Whiteside確實不錯,但在Spoelstra今年的教鞭下還算不上偉大。Steve Mitchell攝(USA TODAY Sports)
這究竟是怎麼一回事?邁阿密的崛起和他們的健康狀況並不吻合,而Spoelstra也沒有像Luol Deng,Joe Johnson,Dwyane Wade或是Amar'e Stoudemire這樣的老兵可以倚靠,從而度過難關。與此相反,這個現年46歲的教練把目光轉向了穩重踏實的藍領,落選新秀以及NBA的邊緣人物。
How is this possible? Miami's rise didn't coincide with an uptick in good health, and Spoelstra didn't have any veterans to lean on through the storm—guys like Luol Deng, Joe Johnson, Dwyane Wade, or even Amar'e Stoudemire—as he did in recent years. Instead, the 46-year-old coach turned to journeymen, undrafted rookies, and seemingly borderline NBA prospects.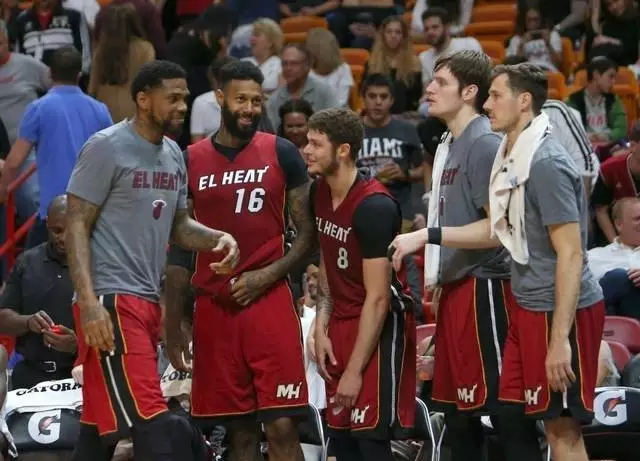 看看球員輪換名單吧:Wayne Ellington(8個賽季輾轉七支球隊),James Johnson(8年五支球隊),Dion Waiters(5年三支球隊),以及Luke Babbitt (7年三支球隊),都是他們在熱火的第一年,卻都打出了各自生涯最佳表現。與此同時,毫無知名度的Rodney McGruder,Willie Reed和Okaro White也都做出了上佳貢獻。沒人指望會是這樣的結果,因為他們本不該做到這種程度。
Look at the roster: Wayne Ellington (seven teams in eight seasons), James Johnson (five teams in eight seasons), Dion Waiters (three teams in five seasons), and Luke Babbitt (three teams in seven seasons) are all in their first seasons with the Heat, and all are playing the best basketball of their careers. Meanwhile, total unknowns Rodney McGruder, Willie Reed, and Okaro White are also contributing at a high level. Nobody expected that, because nobody ever should.
去年Chris Bosh突發的血凝塊病症讓Spoelstra措手不及,但本賽季一開始他就部署了一套小個陣容,調整了球員們的傳統職能,並加入了對抗防守。這一連串動作已經起到了神奇的作用。
Chris Bosh's unexpected blood clots forced Spoelstra to adapt on the fly last year, but this season he has deployed small lineups from Day 1, modifying his players' traditional responsibilities and putting opposing defenses in a bind. The moves have worked wonders.
「我對Spoelstra教練的這套組合拳佩服的五體投地,」波士頓塞爾提克隊主教練Brad Stevens在本賽季前些時候的一次對陣熱火的賽前如是說。
「我認為如今的他使出了很多有意思的招數,在很努力的想方設法打好比賽。」
"I'm a big fan of what Coach Spoelstra does," Boston Celtics coach Brad Stevens said before a game against Miami earlier this season. "I think that he has got a lot of interesting wrinkles right now with how they're trying to play."
要列舉其中一個招數嘛?比如把Johnson放在4號或者5號位,讓他控球,然後和做牆的Dragic打擋拆,如下所示:
One of those wrinkles? Playing Johnson at the four or five, giving him the ball, and having him run inverted pick-and-rolls with Dragic setting the screen: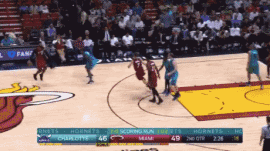 一切都按照計畫進行,Johnson既可以把球傳給蹲在弱側底角被放空的Tyler Johnson,也可以反手把球回磕給背後的同樣是大空位的Dragic—但老哥選擇了中路高吊球……但正是這種頗具創造力的戰術佈置使得Spoelstra成為聯盟教練中的翹楚。
It all goes according to plan—Johnson has Tyler Johnson wide open in the weakside corner and can also kick it back to Dragic wide open behind him—until the actual pass. But this type of creativity is what makes Spoelstra one of the best.
「很多球隊只會在暫停後緊急佈置此類戰術,或者作為及其非常規的手段來使用,但這些傢伙好像把這當做日常進攻套路,實在是不走尋常路,」在談及熱火時Stevens是說。「也許這是(Spoelstra的)小球戰術的下一步棋,但我覺得讓大個兒控球,小個兒出去掩護畢竟還是會讓你身陷窘境。有時他們會拉兩個人出去作掩護,這實在是一招險棋,頗難應對。」
"A lot of teams will do it out of a time-out or very, very irregularly, and these guys have made it a huge part of their system, and it's just unique," Stevens said about the Heat. "Maybe it's the next step in small ball that [Spoelstra is] onto, but I think at the end of the day it puts you in a predicament when the bigs are handling the ball and the guards are setting the picks. Sometimes they have two picks up top and it's a heck of a deal, it's a tough deal to guard."
如果說把熱火的崛起全數歸功於Spoelstra也是扯淡—自1月中旬邁阿密的13連勝征途開啟以來,全隊的「大空位」三分球命中率高達49.1%,冠絕全聯盟。但Spoelstra當然也擔得起讚譽,因為他想出了很多方法來使球員們揚長避短。
It would be silly to give Spoelstra all of the credit for the Heat's resurgence—Miami has knocked down a league-leading 49.1 percent of "wide open" threes since their 13-game winning streak began back in the middle of January—but he deserves praise for figuring out different ways to accentuate his player's strengths and camouflage their weaknesses.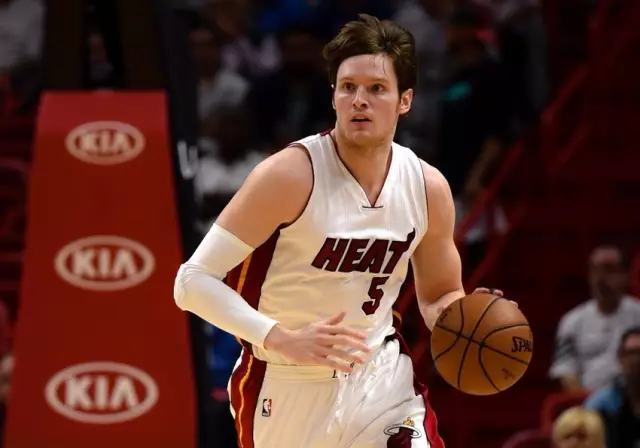 以Babbitt為例,他的外線投射能力是他賴以立足NBA的唯一武器。那Spoelstra是怎麼做的呢?讓他在外線射個不停:Babbitt 79.9%的得分都來自於三分線外,暫居聯盟首位,而且是他去年在紐奧良黃蜂的將近兩倍之多。
Take Babbitt. His outside shot is the only reason he's in the NBA. So what does Spoelstra do? He lets him shoot a bunch of outside shots: 79.9 percent of Babbitt's points are from behind the three-point line, which currently leads the league and is nearly double what it was last year on the New Orleans Pelicans.
同理,Spoelstra也給Dragic和Waiters這兩名攻擊型後衛開了綠燈—只要看到對手防線有破綻,只管拿球衝進去攻擊籃框。這使得熱火在場均突破切入和突破分球這兩項上傲視全聯盟。
Similarly, Spoelstra has given Dragic and Waiters—two attack-minded guards—a green light to go to the rim whenever they see a crack in the defense, a freedom that has placed the Heat atop the league in drives per game and passes from said drives.
防守方面,邁阿密自1月17日起就將對手在弧頂的三分球出手數和命中數限制到了最低。這很了不起,但也要求外線球員有極為充沛的體力去整場飛奔跟防對方的射手。本賽季的熱火同時還有聯盟第三佳的轉換防守能力。這些都標誌著這是一支專注,紀律嚴明且教練教導有方的球隊。
On defense, Miami has allowed the fewest three-point attempts and makes from beyond the arc since January 17th. That's huge, and it requires an immense amount of energy from perimeter players who have to scramble all over the court to run shooters off the line. The Heat also have the the third best transition defense in the league this season. These are both signs of a focused, disciplined, and well-coached basketball team.
難以量化的是,Spoelstra也負責溝通和傳到邁阿密的球隊文化。如果不是Spoelstra對球員的高標準,對訓練的嚴要求,Johnson不太可能減掉30磅的體重。減掉了這麼多,換做是你怕是也能長期穩定的打得如此出色(開玩笑而已,別想啦你沒戲):
Less quantifiably, Spoelstra is responsible for instilling and communicating Miami's organizational culture. Johnson likely would not have shed 30 pounds without the high standards Spoelstra holds his players to, or the harsh practices he puts them through. Lose that much weight, however, and you too can make plays like this on a consistent basis (just kidding, no you can't):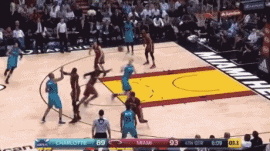 如今熱火在東部季後賽的角逐中,落後7號種子底特律活塞和8號種子芝加哥公牛僅僅半個勝場。而且即便邁阿密最後沒能打入季後賽,Spoelstra的指揮能力和技藝也得到了充分證明—因為他們隊內正負值拔尖的幾名好手都還簽的是一年短合同—換句話說,這些傢伙本應是拿著自己可觀的數據去尋求今夏的大合同,而不是像現在這樣兢兢業業的傳球,竭盡全力的防守。更引人注目的是,Dragic和哈桑Whiteside已經被掛牌出售好幾個月了,但從外部看來,更衣室內仍是一片和諧氛圍。
Currently, the Heat are only 0.5 games behind the seven-seed Detroit Pistons and eight-seed Chicago Bulls in the Eastern Conference playoff race. And even if Miami doesn't make the postseason, it's a testament to Spoelstra's command and skill that the team's current leaders in plus/minus are on one-year contracts—in other words, they're guys who should ostensibly be looking to pad their individual stats in search of a hefty deal this summer, as opposed to making the right pass and exerting maximum energy on defense. More remarkably, Dragic and Hassan Whiteside spent months on the trade block, yet from the outside looking in, Miami's locker room has remained copacetic.
熱火一度曾是巨星追逐的目標,如今卻要開始推倒重建了。他們從王師淪為了弱旅,從三巨頭變成了全平民,而Spoelstra卻證明了他兩條路都走得通。他是一名勵志大師,為這個本可能熬不過新年的殘陣奠定了勝利的基調。他的工作並不是抱著長遠目光擺爛,而後寄希望於樂透選秀,而是要不斷改善進步,用手頭現有的球員去爭取更大的勝利。
The Heat used to be a superstar destination. Now, they subsidize reclamation projects. They've shifted from titans to underdogs, from Big Three to who?, and Spoelstra has shown he can succeed either way. He's a master motivator, and sets the tone for a roster that could've easily crumbled before New Year's Day. His job is not to take the long view and tank for a lottery pick. It's to improve and excel with the players he's given.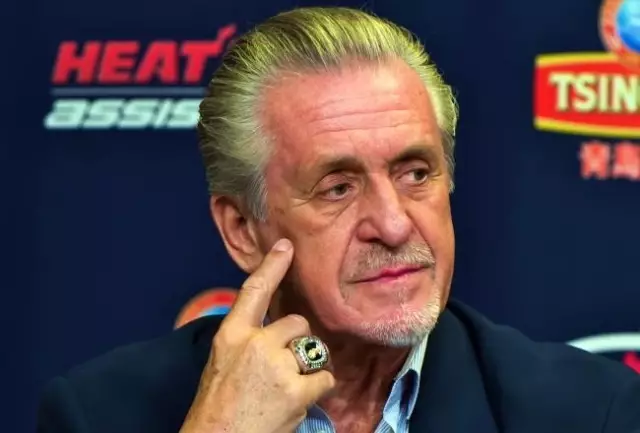 由於Spoelstra的出色工作,邁阿密今夏怕是要錯過引進天賦新星的機會了,這個新星極有可能改變球隊的命運。而球隊的重建工作也要依靠去自由市場撈魚以及巧妙運用靈活的工資帽,為可見的未來謀一波福利。有了Spoelstra這樣的教練,這樣一個無視外部環境也清楚知道怎樣取勝的帥才,相信熱火重回爭冠行列並不遙遠。
Thanks to the job Spoelstra has done, Miami can all but kiss its chance to land a franchise-altering talent in June's draft goodbye. Instead, the team's rebuild will shift to improving through free agency, and making wise use of the cap flexibility Miami looks to have for the foreseeable future. With a coach like Spoelstra, someone who clearly knows how to win regardless of the circumstances, it's hard to think the Heat will stay far removed from championship contention for very long.
年度最佳教練獎是NBA較蠢的幾個年度獎項之一,但Spoelstra值得所有的選票。
Coach of the Year is one of the NBA's sillier annual awards, but Spoelstra deserves all the votes.
推薦閱讀
圓滿解答?曝熱火、Bosh下週商討合約處理,不排除仍以交易為選項